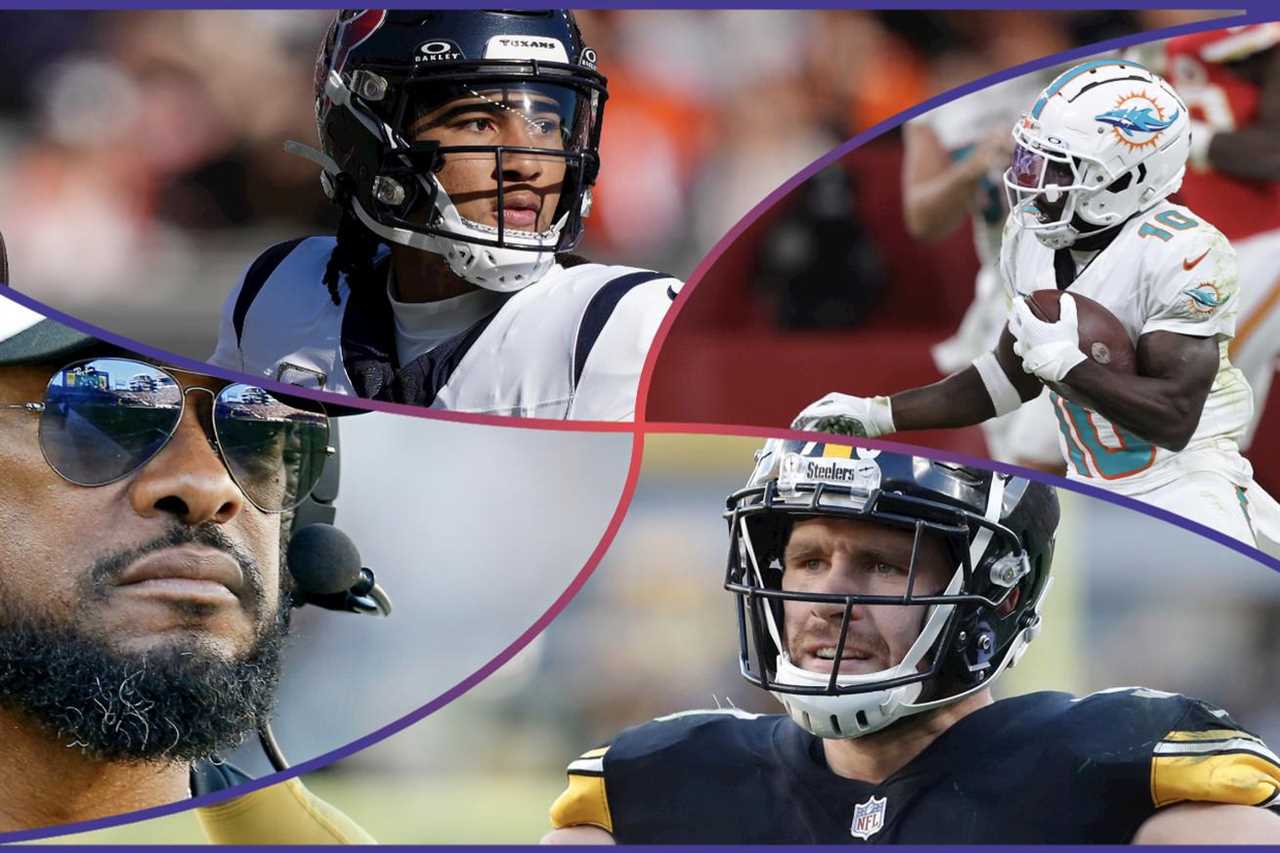 Who is the NFL MVP, ROY and more at midseason?
The NFL is entering the back stretch, and the race for the playoffs is heating up. If there's anything we can say about the season up to this point, it's that unpredictability has been king.
From the Bills struggling to find their footing, the Texans planting their feet in the ground, to Aaron Rodgers tearing his achilles in the MetLife turf — what we thought we knew about the league in 2023 has been demolished over the first 10 weeks of the season. Now as we get down to crunch time we're thinking about who has impacted the league the most this season.
Here are out picks for who we think should bring home the biggest end of season awards in the NFL in 2023.
Comeback Player of the Year
Lamar Jackson — James Dator
Damar Hamlin — Mark Schofield
T.J. Watt —J.P. Acosta
Why I'm picking T.J. Watt, by J.P. Acosta
Comeback Player of the Year is always extremely difficult to gauge and choose because of how we define comeback. Of course the other candidates my colleagues have listed make extremely strong cases, but I actually have Lamar Jackson listed for another award below. Hamlin might be the easy pick here, given everything that happened to him last year and the fact that he's even dressing out is impressive. But there are very few defensive players that mean as much to a singular team as T.J. Watt does to this Steelers team, and getting him back fully healthy was a major plus for a defense that has quite literally carried the offense on their back this year. At this point in the year Watt has 10.5 sacks, two forced fumbles and a pick, and has literally won games for the Steelers, who have been out-gained in every game they play, but are somehow 6-3. Watt might not get DPOY, but coming back from injury in the first half of last year and being this level of player is very impressive.
Offensive Rookie of the Year
Puka Nacua — James Dator
C.J. Stroud — J.P. Acosta
C.J. Stroud — Mark Schofield
Why I'm picking Puka Nacua, by James Dator
When you get the bottom of our awards you're going to see why I'm picking Nacua here over C.J. Stroud and it will make a lot more sense. Independent of Stroud's incredible performances we can't lose sight of just how incredible the Rams' rookie has been this season.
Nacua is currently No. 6 in the NFL in receiving yards. When the dust settles he's on pace to finish with over 1,500 yards in his first season. Nacua's role might have decreased with the return of Cooper Kupp from injury, but that's also part of the reason he belongs here. When Kupp was hurt the Rams offense barely missed a step. The rookie was able to immediately step in as if nothing changed, and being vaulted from 5th round pick to suddenly working against top NFL defensive backs is a ludicrous achievement.
Averaging 12.9 yards-per-reception in 2023, Nacua has proven his ability as a true No. 1 receiver in the NFL. He's already broken the single-game receiving record for a rookie, and he's on pace to break the single-season record as well. He's my OROY, and the future of the Rams' offense is in good hands.
Defensive Rookie of the Year
Jalen Carter — James Dator
Devon Witherspoon — J.P. Acosta
Devon Witherspoon — Mark Schofield
Why I'm picking Devon Witherspoon, by Mark Schofield
Honestly, I do not think you can go wrong with either Jalen Carter or Devon Witherspoon here.
Carter has been tremendous for the Eagles, and is the odds-on favorite right now for Defensive Rookie of the Year with good reason. Not only has he been a force against the run, and consistently resets the line of scrimmage when he is in the game, but he has been a massive contributor when the offense tries to throw. Carter already has four sacks on the year, an impressive number for an interior defensive lineman. If Carter is your pick — like James makes here — I get it.
The reason for the Devon Witherspoon pick is this: He too is contributing in both phases of the game. Not only has he been stout against the pass this season — he has allowed an NFL Passer Rating of just 68.4 this year when targeted, and quarterbacks have completed less than 50% of their throws when targeting him — but he has also been a force in the run.
Coming out of Illinois, his willingness to play downhill was a major selling point. He has showed that throughout his rookie season. That's enabled Seattle to play him in a variety of alignments, both along the boundary and in the slot, and he has excelled in both areas.
Both players are tremendous, but Witherspoon stands out for his versatility.
Assistant Coach of the Year
Steve Wilks — James Dator
Brian Flores — J.P. Acosta
Ben Johnson — Mark Schofield
Why I'm picking Brian Flores, by J.P. Acosta
This has been the year of the defense. Scoring is down all over the league and QB play has been near the bottom as well. While Johnson seems like the favorite based on his work with the Lions, coaching is about getting the most out of what you have, even when what you got isn't top shelf. Per Sumer Sports, the Minnesota Vikings are ninth in defensive EPA per play allowed, 13th in Success Rate allowed and above all, 6-4 and currently in a playoff spot. This has also been without a surefire cornerback and LB play led by Jordan Hicks, a player who has been in multiple places before Minnesota. Flores has gotten the absolute most out of a defense that didn't give a lot of fans optimism, and has stymied some of the best offenses in the NFL. I'm rewarding doing more with less than most candidates on this list.
Offensive Player of the Year
Tyreek Hill— James Dator
Tyreek Hill — J.P. Acosta
Tyreek Hill — Mark Schofield
Why I'm picking Tyreek Hill, by Mark Schofield
We are unanimous here with our selection of Tyreek Hill.
There is certainly a case to be made for A.J. Brown, and all of us considered the Philadelphia Eagles wide receiver here, but Tyreek Hill has been absolutely game-changing for the Miami Dolphins this season.
Hill leads the NFL with 1,076 receiving yards, and is on pace for over 2,000 receiving yards, a feat which has never been accomplished in the history of the NFL. His speed is a nightmare for Dolphins' opponents, and beyond what he does in terms of production, he opens up huge opportunities for teammates around him.
However, if you were to ask the receiver himself about his MVP chances, he would make the case for someone else on Miami's roster.
Fullback Alec Ingold.
Defensive Player of the Year
Myles Garrett — James Dator
Myles Garrett — J.P. Acosta
Myles Garrett — Mark Schofield
Why I'm picking Myles Garrett, by James Dator
We're all picking Garrett here, because he's been that damn good. Garrett is tied 1st in the NFL in sack total, but beyond that no player in the league has been more disruptive this season. There isn't a week that goes by where Garrett isn't finding a new way to tear an offensive line apart while pass rushing, but also demolishing the interior.
Garrett is on pace for a league-leading 11.8 stuffed runs this season, which are defined as attempts by the running back which are stopped before the line of scrimmage. He also is tied for most forced fumbles this season, and has two passes defended to boot.
This is a player who has found a way to step up at critical times and assert himself in ways that alter the game, and no matter how much teams try to mitigate Garrett's impact, he keeps feasting.
Executive of the Year
Nick Caserio — James Dator
Nick Caserio — J.P. Acosta
Nick Caserio — Mark Schofield
Why I'm picking Nick Caserio, by James Dator
Here's another award where we're all in favor. There is absolutely nobody who deserves this award other than Texans GM Nick Caserio.
Taking over one of the worst teams in the NFL is a tough task, and turning them around as quickly as Caserio has is a stroke of genius. Forced to work for a season under the nightmarish shadow of Jack Easterby, Caserio stepped up in 2023 into the main role on his own and every single decision he's made has been a stroke of brilliance.
A big part of this was his 2023 draft, which featured not just the one-two punch of C.J. Stroud and Will Anderson, but found value all the way down the board — notable with Tank Dell and Henry To'oto'o. Not only that, but Caserio made the best new coaching hire of the cycle in DeMeco Ryans, who is having a serious impact on the culture of the Texans.
Houston is ready to contend. They have draft assets for the future, cap space to work with, and hope for the first time in a long time. Caserio is the reason for all that.
Coach of the Year
Mike McDaniel — James Dator
Kevin O'Connell — J.P. Acosta
Mike Tomlin — Mark Schofield
Why I'm picking Mike Tomlin, by Mark Schofield
The Pittsburgh Steelers have been out-gained in all nine of their games this year.
They are also 6-3 on the season and, if the playoffs were today, they would be in.
We anticipated going into the season that the Steelers were going to rely on their defense to keep them in games, and hopefully get enough from their offense to win those games. So far, that is playing out almost exactly as expected. A one-score win over the Browns in Week 2. A one-score win over the Raiders in Week 3. One-score wins over the Rams, the Ravens, the Titans, and the Packers.
That this team is not only in the playoff mix, but in the hunt for the AFC North title — Pittsburgh is just one game behind Baltimore, having already defeated them this season — is a testament to the job Mike Tomlin is doing with this roster.
MVP
C.J. Stroud — James Dator
C.J. Stroud — Mark Schofield
Lamar Jackson — JP Acosta
Why I'm picking C.J. Stroud — Mark Schofield
Entering the 2023 NFL season, the Houston Texans were listed at +20000 to win the Super Bowl, tied with the Arizona Cardinals for the longest odds in the entire league.
They were listed with an Over/Under of 6.5 on the year.
Now? Those odds are nearly cut in half, as the Texans are listed at +10000 at Draft Kings to win the Super Bowl. They currently sit at 5-4, just one game behind the Jacksonville Jaguars in the AFC South, and they have already beaten Jacksonville this season.
There are a number of reasons why the Texans are so far ahead of where people expected them to be this season, but it starts with rookie quarterback C.J. Stroud. Stroud has been phenomenal this season, having completed 61.6% of his passes for 2,626 yards and 15 touchdowns, against just a pair of interceptions.
But beyond what Stroud is doing, it how he is going about doing it. On throws more than 20 yards this season, the rookie quarterback has hit on 21 of 35 of those attempts for 696 yards and 6 touchdowns, without an interception, according to charting data from Pro Football Focus. He has an Adjusted Completion Percentage of 60.0% on those throws, third-best in the NFL.
Stroud has been phenomenal, and he is just getting started.
-----------------------
By: Mark SchofieldJames DatorJoseph Acosta
Title: NFL awards for MVP, Rookie of the Year, DPOY, and more at midseason
Sourced From: www.sbnation.com/nfl/2023/11/14/23958714/nfl-mvp-race-awards-midseason
Published Date: Tue, 14 Nov 2023 16:22:22 +0000

Read More