The best – and as it turns out, the funniest – piece of evidence the Black South Florida community was ready for Lionel Messi was the local viral meme of Messi smiling, complete with a full I-95 gold grill.
So much different from the photo Inter Miami FC forward Messi posted in December 2022 of himself holding the World Cup aloft to then 400 (now 491) million followers, dethroning, believe it or not, a stock photo of a brown egg as the most-liked Instagram post of all time.
Welcome to Miami!
It's clear another greatest of all time has entered the conversation. Even if Inter Miami FC failed to make the MLS playoffs, the arrival of the Argentinian soccer great Messi is an opportunity to explore and examine his impact from a Black perspective, in and around the pitch.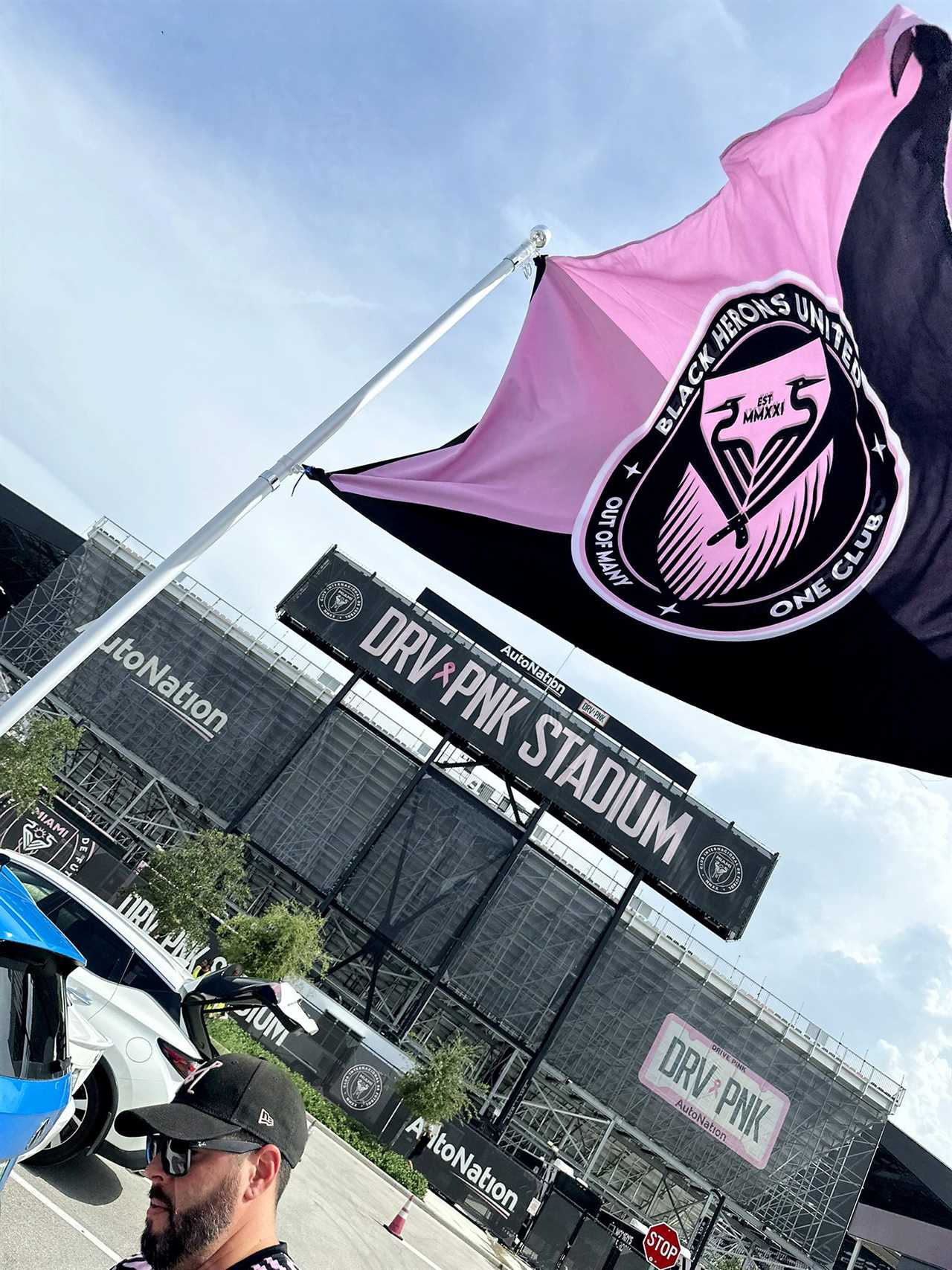 Here's who is in the stands
The South Florida Black diaspora community is a diverse and vibrant population that encompasses individuals and families who have migrated from countries and regions with African heritage. This diaspora has contributed significantly to the cultural, social, and economic fabric of South Florida.
According to the Pew Research Center, Miami has the seventh largest Black population in the U.S. Part of the Black Herons' (Inter Miami FC's independent supporters group) mission is to create "a fully and totally inclusive community anyone can join, no matter race, gender, sexual orientation, as long as you're committed and are prioritizing and centering South Florida's Black culture," said Jermaine Scott, one of the Black Herons' leaders.
The South Florida Black community encompasses a range of cultures, traditions, languages, and customs. It includes individuals and families from the Caribbean, Africa, and other regions, each with its distinct contributions that enrich the region's cultural diversity. It exhibits a strong sense of unity and solidarity, supporting one another through shared experiences, celebrations, and challenges.
"Soon after Messi's arrival we saw the club lean into its Latin American fan base. IMFC does a fantastic job of including them. You can do the same thing with the large Black population and Caribbean population that are already massive soccer fans, highlighting Black history of South Florida through football," Scott said.
Messi's arrival has supercharged the Black Herons in a way they have not seen.
"It's hard to put into words. We all knew about his greatness but seeing him on the pitch has been mind-blowing," Scott said. "Messi is here and it has given us all the energy to do more."
The South Florida diaspora maintains strong connections to its African roots, celebrating its heritage through music, dance, food, art, and religious practices. This preservation of cultural traditions contributes to a sense of pride and identity.
When the Black Herons arrived on the tailgate scene, they brought a totally different cultural environment. Reggae and hip-hop, Jamaican patties, all the different Caribbean liquor. The vibe, the feel, the whole ting.
"How do we ensure the cultural translation into the Black community?" Scott pondered somewhat rhetorically, clearly embodying a different sense of what the team looks like.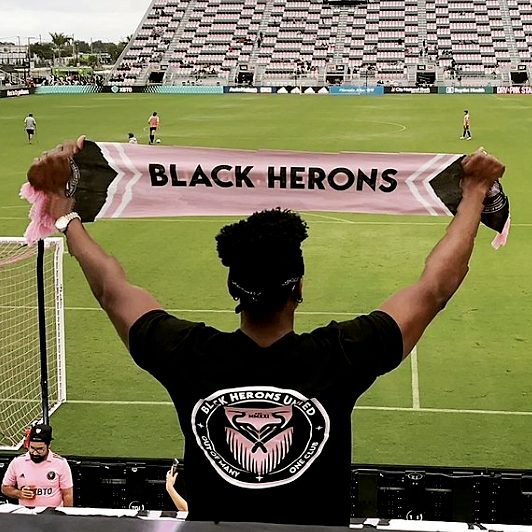 Followers have star power
It's hard to argue there is anyone who understands stardom more than Kevin Frazier. The longtime Entertainment Tonight host, who has spent nearly two decades covering Hollywood's biggest celebrities and stories, said it's easy to see what is happening.
"It's the star power," Frazier said. "That is why we at Entertainment Tonight covered Messi when he came to LA because of all the stars that came out to see him and to take in the moment. That is a massive watershed moment for MLS. People who had no idea about the league or understand the league understood the best player in the world is here. And they had to see it."
Frazier, who also was an anchor for ESPN and an NFL sideline reporter for Fox, added, "You saw the frenzy when he went to France [to play for Paris Saint-Germain FC], but it wasn't anything like what we've seen in the United States."
Not lost on Frazier is the opportunity Messi's arrival presents to make deeper connections
with the Black community.
"By having that mass appeal audience, it puts more eyes on the game for Black people, especially when you have LeBron tweeting about it and other mainstream star power pulling closer," Frazier said. "Look at rap music now. The sheer amount of Lionel Messi jerseys, the pink you see at concerts. That's how I have seen his arrival permeate the culture. It's the
jerseys. People all of a sudden need one of them. People recognize them and know what it is and that it is a MLS team."
Messi's star power elevates the profile of MLS and attracts a wider audience, including the Black community who may have previously felt disconnected from the league. With their historically low attendance in MLS stadiums, Black fans may now seek a stronger connection to the sport.
Frazier, who calls Los Angeles home and spends his weekends playing soccer dad to his soccer-crazed son, sees how the game has seeped into the culture in LA.
"I was at a LAFC [Los Angeles FC] game, and walked down to suite 10 where the celebrities are, it's become the cool thing. And I saw Raphael Saadiq. And I was, 'yo, look, that's Raphael Saadiq.' When you see someone like Raphael coming out to see LAFC, that is big, that is a real cultural crossover."
---
Messi's influence and impact extend far beyond the game itself, and his presence can be a catalyst. Seeing Messi's greatness can help further spark a sense that Black community will be attracted to soccer.
"What is not happening and what needs to happen is there needs to be that consistent crossover to bring in Black stars and see them crossing moreover into Black cultural references. Now, Messi will pop into a rap line, but I want to hear a [defender DeAndre] Yedlin line." Frazier said.
The arrival of a high-profile player like Messi can attract attention and investment from sponsors, clubs, and organizations in soccer. This increased focus can create opportunities for the development of grassroots programs, academies, and initiatives aimed at nurturing young Black talent.
Frazier, who watches his own son's love for the game bloom in the shadow of the Los Angeles FC, has a clear idea of what is needed to bridge the gap between soccer and the Black American community at large.
"Access. There is no access," Frazier said. "It is still a suburban game. Speed, quickness, agility, IQ, we have all of that, but the game isn't accessible because they're priced out and with limited training access. You don't have those inner-city teams. Until they are created and figure out a financial model that trumps pay-to-play, we will miss this population.
"Rarely, if ever, in an inner-city school will they roll out a soccer ball. Think about that. In a city school, you will rarely see a soccer ball. When we give the opportunity for those kids to put their foot on the ball, it will change and it will change quickly, but you have to form those teams, those groups, those connections. When we focus there, when we create it, that's when we will see a difference."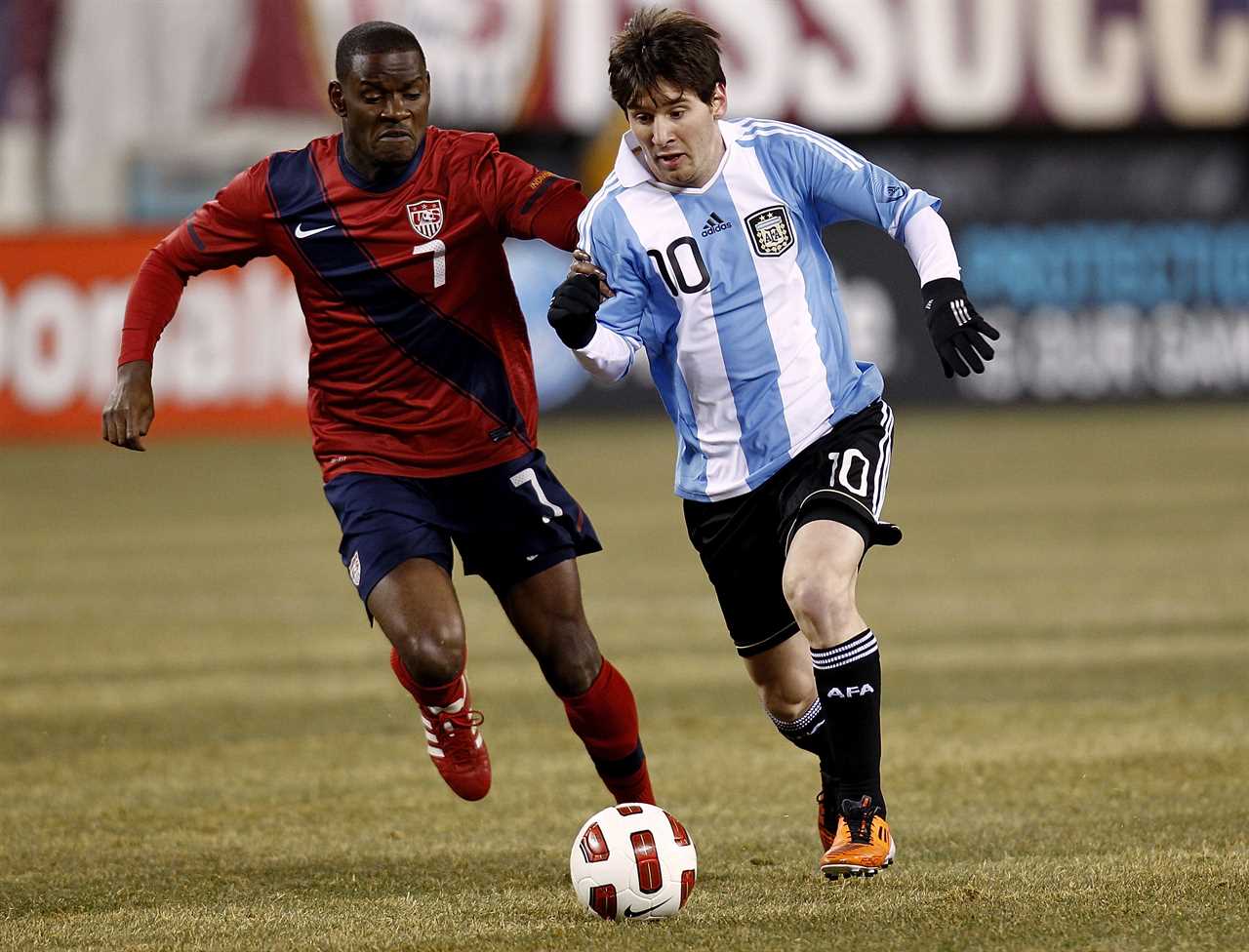 From the field to the booth
"When I was young, I was always trying to find ways to merge the two things that I was passionate about, which were soccer and hip-hop culture. There is already some movement in terms of more young Black kids recognizing that this game is dope. And Messi only adds to that."
– Maurice Edu
Apple TV has changed MLS and American soccer television forever and former U.S. men's national team standout Maurice Edu has taken in Messi mania firsthand.
"The timing of everything could not work out any better from an MLS standpoint, from an Apple standpoint, from a soccer in this country standpoint," said Edu, who started for the United States at the 2010 World Cup.
"This is Messi; this is one of the biggest — not even just players, or athletes — one of the biggest and most popular people on the planet and, in my estimation, the greatest player to ever play the game. Thinking back to this summer, it is still kind of surreal and crazy to finally see it now happening in our country, in our stadiums."
Edu echoed some of the same sentiments Frazier did when it comes to the connection to
the Black community at large.
"Seeing LeBron, all these different people that I look at with such admiration. People like Serena Williams, athletes who have achieved pretty much everything and entertainers that have achieved the highest accolades and to see them, I don't want to say fanboy, but them being in awe, it was crazy to see, it was crazy to witness," Edu said.
Edu said, "These are figures that are celebrated and championed in the Black community. You can see the impact that he has had just from the standpoint of broadening the reach of the game. It is also just an indication of who this man is to the sport and what opportunity we have in front of us for him to really help take this game to the next level.
"I think it's so important that in this moment, that we're living right now, we have to see the opportunity to make the most of him, of Messi being in our country, in our league, and how that can benefit and grow the game here."
Edu chuckled over the thought of an Argentinean doing work to build that soccer bridge to the Black community.
"When I was young, I was always trying to find ways to merge the two things that I was passionate about, which were soccer and hip-hop culture. There is already some movement in terms of more young Black kids recognizing that this game is dope. And Messi only adds to that."
Edu has emerged as one of American soccer's prominent personalities and says the Messi effect has also found its way to the booth.
"Oh, yeah, most definitely the shows are elevated," Edu said. "There's a lot more, the buildup, we're doing an hour pregame show, there's a Messi ISO camera and all because we want to make sure that we're telling the story in the right way, taking advantage of this once-in-a-lifetime asset that's available to us."
Edu, the No.1 overall pick in the 2007 MLS SuperDraft, who also spent a long spell with the famed Rangers FC of the Scottish Premiership, maintains his sharpened lens for the game on the field.
"I mean, it's funny, right?" Edu said. "Everyone's gonna talk about how much he walks? I think the trade-off is incredible. I think Miami is being clever on how they're building that team because you're gonna need legs around Messi, but when he gets the ball …
Edu trails off, lost in a rabbit hole of Messi highlights looping in his mind …
"Every touch is worth the price of admission."
-----------------------
By: Allen Hopkins Jr.
Title: Lionel Messi's impact on Black soccer in America
Sourced From: andscape.com/features/lionel-messis-impact-on-black-soccer-in-america/
Published Date: Wed, 08 Nov 2023 14:20:41 +0000

Read More