"Happy wife, happy life" is a common phrase often heard from married men. Such was the case for Josh Hart after he got traded from the Portland Trail Blazers to the New York Knicks.
Hart and his wife, Shannon, dated in high school in Silver Spring, Maryland, and they got married in South Beach Miami in August 2021. Shannon Hart is now pregnant with twins, the couple's first children. It was tough for Shannon Hart to get support in person from family and friends when her husband played for the Blazers in the Pacific Northwest. But that changed when the Harts moved much closer to home after Hart was acquired by the Knicks before the February trade deadline from Portland for three players and a first-round pick.
"Portland was good, but it was just so far and I'm not from the West Coast," Hart recently told Andscape. "It was tough. Not on me, but more so on my wife because she's not a huge fan of flying. So, she's all the way in the Pacific Northwest, not really flying, just by herself. That was one of the things that was weighing on me a little bit, just seeing her struggle with that. So, me being gone but being close to home, it's been great.
"I was superexcited about the trade. My first call was to my wife. Oh, man, she was excited. She was freaking out a little bit because obviously she's got a doctor [in Portland], and everything is kind of situated. But once we got everything situated on that front, she was ecstatic."
Related Story


Brooklyn Nets' Mikal Bridges embraces the Kevin Durant trade
Read now
Hart said his wife has about 10 to 11 weeks before she is expected to give birth. Hart said one of her girlfriends spent some much-appreciated time with her for a week while he and the Knicks went on a four-game West Coast road trip recently that included a stop in Portland, Oregon. Such a meeting likely wouldn't have happened if the Harts were still in Portland. Hart's family members have attended his games regularly since he joined the Knicks. The former Villanova University star also has two former college teammates nearby in Knicks guard Jalen Brunson and Brooklyn Nets forward Mikal Bridges.
With ties to Philadelphia and Maryland nearby and Villanova fans recognizing him, Hart said, he and his wife are in the "best situation" in New York.
"This is my sixth year in the league, fourth team, sixth head coach," said Hart, who has also played for the Los Angeles Lakers and New Orleans Pelicans since being selected 30th overall in the 2017 NBA draft. "I've been traded three times. It's been a whirlwind. Not really ideally how I thought my first six years were going to go, but I want to find a home."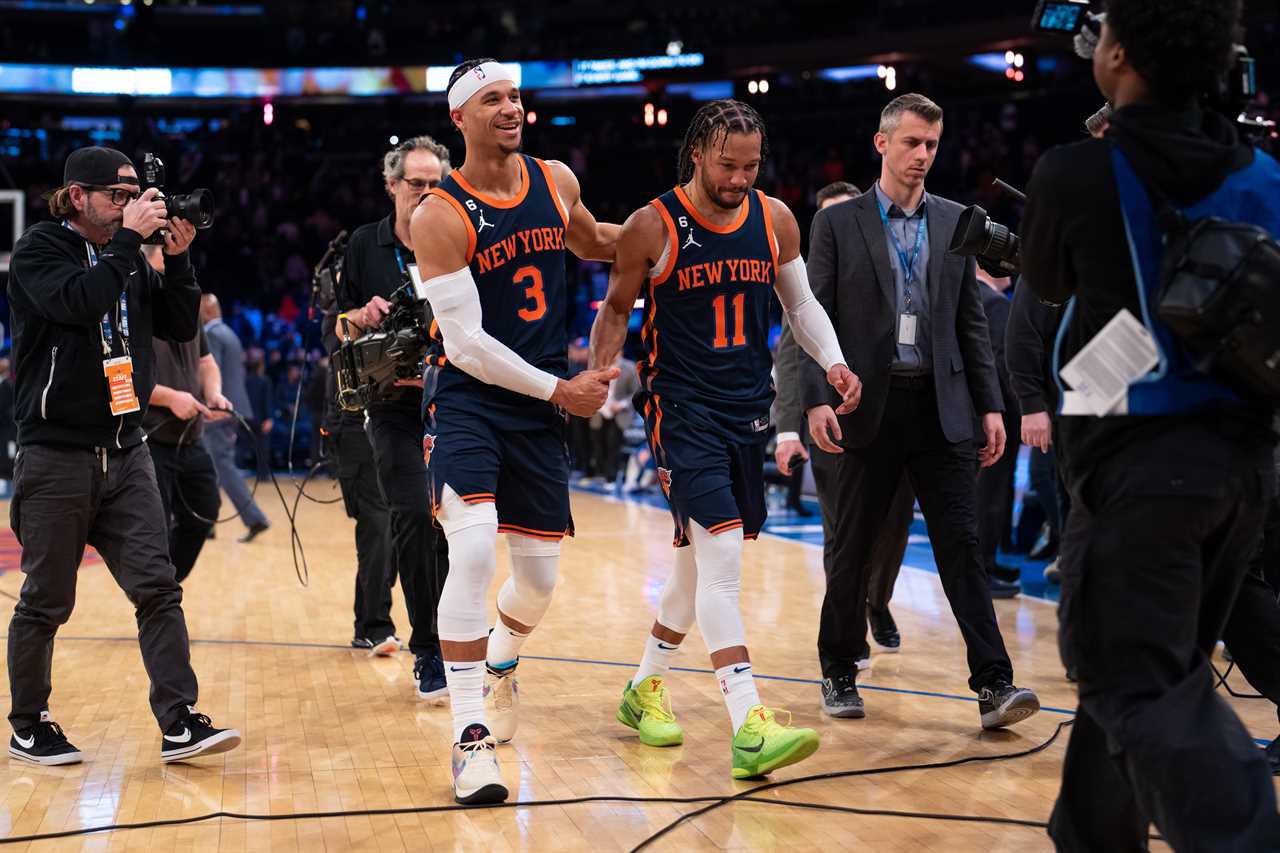 New York Knicks guards Josh Hart (left) and Jalen Brunson (right) leave the court after the game against the Utah Jazz at Madison Square Garden on Feb. 11 in New York City.
Evan Yu/Getty Images
Could the Knicks become a long-term home for Hart?
Hart is expected to decline his $12.9 million player option for the 2023-24 season to become an unrestricted free agent this summer. The 6-foot-4, 215-pounder is averaging 11.1 points, 7 rebounds and 3.9 assists in 30.4 minutes per game off the bench for New York in 16 contests. New York is 12-4 since acquiring Hart, who told Andscape that he hopes to sign a long-term deal with the Knicks. His wife is on board with that decision, too.
"I want bigger things for my wife and myself," Hart said. "Just find a home somewhere where we are valued and really like living there. And I think that can be New York. I would love for it to be New York and hopefully the organization feels the same way. Coming up, this contract is hopefully my biggest one, one where I'm making sure my family's fully taken care of. So, I've also got to take that into account, too."
Hart said he and his wife are living temporarily on the Upper West Side of Manhattan. If signed by the Knicks long term, the self-described homebody will likely find a new home near the Knicks' practice facility in Westchester, New York, during the offseason. Hart, who is in the final stages of releasing his first wine, also has wine bottles to move from Portland.
For any real estate agents looking to land the Harts as clients, they are looking for a big house where there is land for his dogs, a golf course nearby, a wine cellar, and a comfortable room for the twins.
Related Story


In Knicks' rebirth, New York fans got something to say
Read now
"We love the Upper West Side, but them brownstones are expensive as [expletive]," Hart said. "It's crazy. So, I'll probably be a Westchester guy. But this summer, hopefully, everything goes well and maybe I'll be a Westchester guy and find a nice little country club somewhere, play some golf …
"I'm about to have very minimal free time with the twins on the way and all that. But, man, I love golf. The last six months I haven't been able to play with the weather and the season. I've just been loving it more and more. I watch almost every freaking PGA Tour event, the Players Championship. I like just playing golf, drinking wine, and hanging out. I'm not too much [of] a going-out guy. I like to stay home, kick it with the fam, kick it with the dogs, and just chill. That's all I want. Give me a house with a huge yard with three holes, have a nice wine cellar, area for the dogs to run."
---
Hart believes the Knicks will be a "really, really good team" this season if they trust each other offensively and defensively. He also believes they truly have a home-court advantage in Madison Square Garden. Hart also believes that celebrity Knicks fans, who most notably include film director Spike Lee, have a different love affair with their beloved team.

"Obviously, being able to suit up in that blue and orange and that atmosphere, the vibe is different," Hart said. "It just gives you more energy and you feed off the crowd. They're fantastic and it's my favorite place to play. Oh, man, I can't imagine right now what MSG will be like in the playoffs. Obviously, I hope that we get there and bring the playoffs home. The league is better when the Knicks are good, and we can get playoffs with MSG. It's just different.

"[Actor] Chase Stokes, I'm cool with him, he came to the game the other day. Spike's there all the time. [Comedian] Tracy Morgan is there all the time. I didn't really know who [singer] Dua Lipa was, but she came to the game and obviously everybody's going crazy. [Singer] J Balvin went to the game the other day. It's dope because they have 'Celebrity Row' that are actual fans. They come to the game and are actually cheering for us. So, that's the coolest part because sometimes they just go there to be seen, but in New York, they are cheering for us and want us to win. It's not the fake love stuff."

-----------------------

By: Marc J. Spears
Title: Josh Hart is loving life with the New York Knicks After stints in Los Angeles, New Orleans and Portland, veteran guard is happy to have family closer to home on East Coast
Sourced From: andscape.com/features/josh-hart-is-loving-life-with-the-new-york-knicks/
Published Date: Tue, 21 Mar 2023 12:44:58 +0000


Read More
Did you miss our previous article...
https://ballerawards.news/sports/when-vip-isnt-exclusive-enough-welcome-to-vvip