PHOENIX — One thousand and two home runs; 3,039 RBIs, 553 stolen bases, 250 strikeouts. 16 Gold Gloves, 14 Silver Sluggers, three World Series wins, two MVPs, 6,935 games played.
In one photograph, the Black players and coaches of Team USA assembled in the outfield to take a picture. Jerry Manuel, Lou Collier, Tim Anderson, Cedric Mullins, Mookie Betts, Devin Williams and of course, Ken Griffey Jr. In another photograph, the team's general manager Tony Reagins is there rounding out the crew of the African American contingent on the squad. Their combined numbers of experience, skill and longevity might seem like an inevitability, but that's exactly why it's so remarkable. On the most basic level, you typically don't see this many of us in one place on one team even remotely affiliated with the MLB.
All of the guys understand the importance of the moment, which after this week in baseball has taken a new level of importance. The question of national identity and how we represent it on the global stage is under scrutiny and investigation, rightfully so. In the meantime, the guys are having a blast. On the surface, the diamond, it's all business but the presence is there from the top down.
The mission was straightforward in its earnestness, but that doesn't preclude it from being courageous. It's easy to say you want to build a team that reflects the character and makeup of the biggest nation in the tournament, it's another thing to be able to do it. Particularly when guys who could be playing are opting out or, in many cases, playing for other nations.
"I just felt that diversity on the staff was important and we have a ton of qualified, diverse people and sometimes they don't get opportunities like this," Reagins said in the dugout before taking on Canada on March 13. "And so, I felt that it was just important that we had qualified people that can do the job, that they got an opportunity, and so I set out to make that happen. The players too. We reached out to a number of players of color, some guys declined to do it, which, for whatever reason, that's their choice, but I wanted to make sure that they knew that the invitation was open, it was there."
As for the team photograph, it was Betts' idea. A no-brainer, really.
"I think we all know the obvious, right? But just for us all to be here and represent the U.S., it's great. It's great for baseball," the Los Angeles Dodgers right fielder said. "We're doing our part in trying to get Blacks in baseball, and this just shows that there are."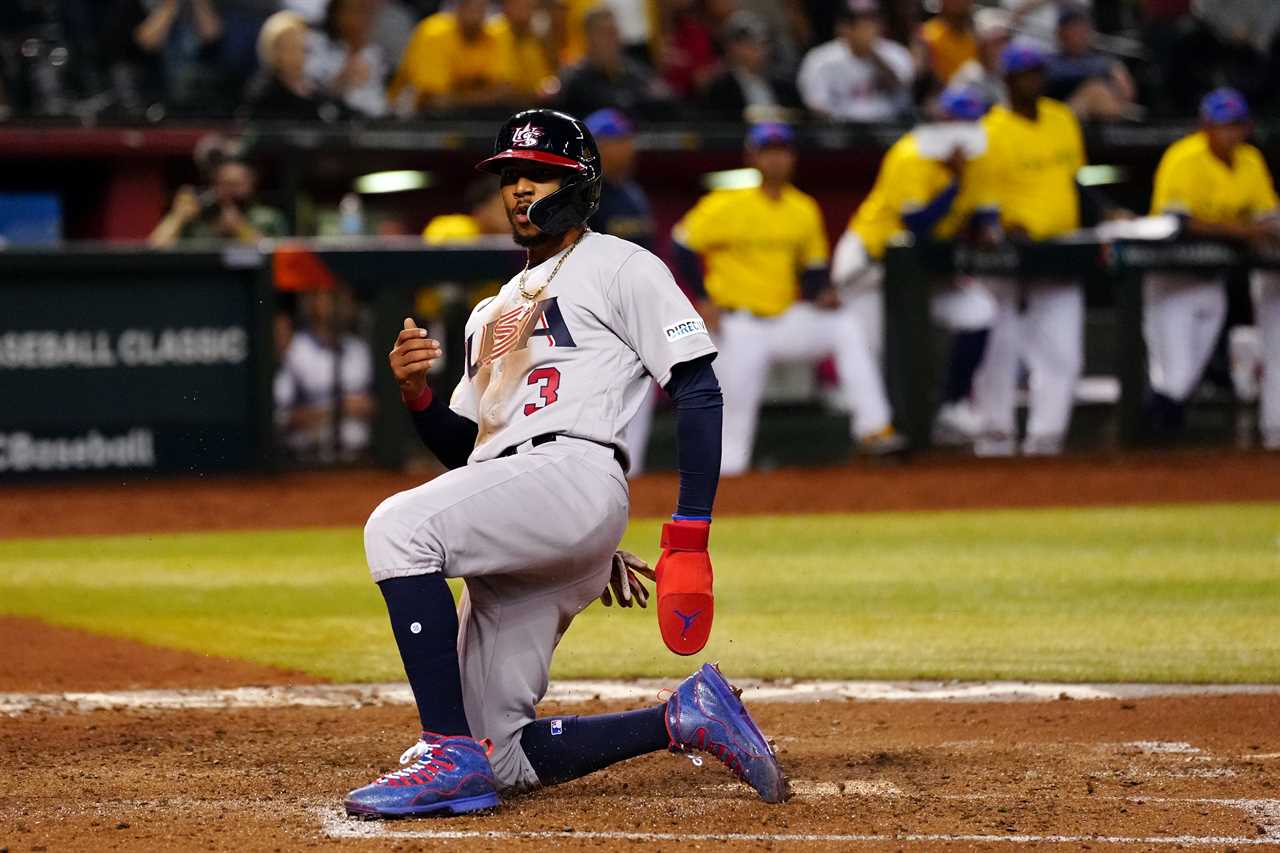 Team USA outfielder Mookie Betts slides safely into home in the fifth inning of a World Baseball Classic game against Colombia at Chase Field on March 15 in Phoenix.
Daniel Shirey/WBCI/MLB Photos via Getty Images
Collier, Team USA's first base coach who is now a generational representative of pro baseball after his son Cam was selected 18th overall by the Cincinnati Reds in the 2022 MLB draft, found the experience humbling.
"​​Oh, man. How can I say it? We had opportunity to be with some of the top African Americans in the game," Collier said. "It's unique because it's USA Baseball and we all wanted to let those guys know that they got a support system and also send it out to the African American community that we got guys that they can look up to."
"There are more of us out there" is the message being sent to not just fellow Americans, but the entire world. As my ESPN colleague Joon Lee points out, more people are watching the World Baseball Classic than ever, which is why it's especially important that the brothas there are actually enjoying it. Outside of them, the typical self-centered American baseball fan has lost sight of reality when it comes to a game that's actually global, but plays its "World Series" based on a league based in two nations.
Without repeating racist and xenophobic tweets, the basic sentiment is simple: Everything American-based in the sport (MLB) is more important and the WBC isn't important because Edwin Diaz of the New York Mets got injured while celebrating a victory by Puerto Rico.
You don't have to look hard to find a gargantuan display of mouth-breathing nonsense online about how they should shut down the tournament because it might adversely affect the MLB. It's such a uniquely American point of view that is almost scary in its predictability. The thinking being: If you upset the apple cart of an American economic engine, your existence should be called into question along with everything you affiliate with.
For those types of people, this is a reflexive reaction, with absolutely no worldview whatsoever. God forbid that "the help" gets hurt and can't work.
Coincidentally, the very people holding back MLB from being great are the largest demographic in the country, and thus the knee-jerk reaction to seeing people have fun, even if at some risk, is plain to see: It's jealousy. Hard to be proud of who you are when your nation's very existence is based on the work of the people you most publicly denounce the worst. A large part of the so-called hardcore fans will never understand the concept of pride in their baseball nation, because that would call into question their very being. Imagine championing the Olympics but having a problem with the WBC. Couldn't be me.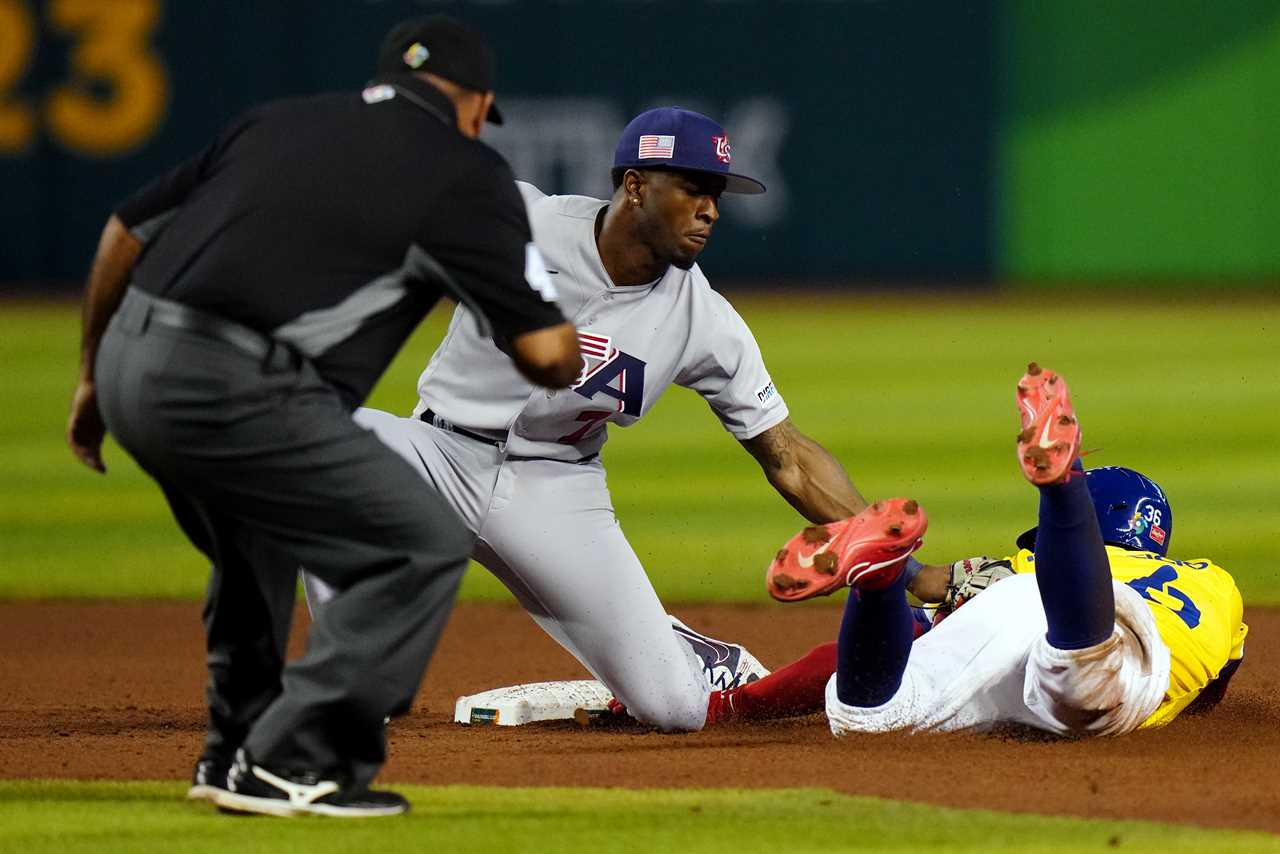 Team USA shortstop Tim Anderson (left) tags out Team Colombia outfielder Oscar Mercado (right) on an attempted steal in the fifth inning at Chase Field on March 15 in Phoenix.
Daniel Shirey/WBCI/MLB Photos via Getty Images
Which brings us back to Team USA. These guys are fighting an uphill battle as it is, just existing and growing up, thriving and giving back in the baseball world.
Representing a country that has consistently tried to marginalize you is actually pretty complicated emotionally. Imagine looking out into the crowd and seeing fans who actually supported who you are because that's just what you do as a matter of pride, instead of dealing with industrial capitalists and puritans trying to kill the sport you love from the roots up.
In the interim, they're trying to have fun and keep it loose before the MLB regular season. Milwaukee Brewers reliever Devin Williams, who was an All-Star in 2022, threw one pitch in a blowout loss to Mexico — a wildly pro-Mexico crowd, for what it's worth — and was dazzling in Team USA's critical one-run victory over Colombia to secure its spot in the next round, is still kind of amazed by how all this happened.
Related Story


Building an all-Black World Baseball Classic team
Read now

"It's kind of surreal to see myself in that class of players," said Williams, 28, who'd never met Griffey before this tournament. "There's a lot of great players in that photo. But it's just something really dope to be a part of the legacy of Black baseball in America. He [Griffey] is just telling us stories and his approach to things and how he goes about it. It was funny. Me and him, we were talking at dinner the other night and he was like, 'Well, if you throw me a fastball up, I'm going to put that s— in the 30th row.' And I was like, 'All right. Well, we're not talking about you, Hall of Famer that's got 600 home runs. You ain't everybody.' "

All jokes aside, Griffey knows the importance of this development. He played on the team in 2006.

"Well, it's to show the young kids that we can still play this game at a high level and you see the transition from guys who played it — from Jerry, to myself, to Mookie, and TA [Anderson], and Cedric," Griffey said. "[For] Just the progression, it's important for these kids to see us out here."

And for any kid watching the World Baseball Classic right now, it's simple, if you like baseball, this is the way the game should be played.

-----------------------

By: Clinton Yates
Title: One photo means more for Team USA's Black baseball contingent At the World Baseball Classic, players and coaches came together for a moment they hope reaches African American community
Sourced From: andscape.com/features/one-photo-means-more-for-team-usas-black-baseball-contingent/
Published Date: Sat, 18 Mar 2023 15:29:51 +0000


Read More
Did you miss our previous article...
https://ballerawards.news/sports/cinderella-run-ends-for-no-13-seed-furman