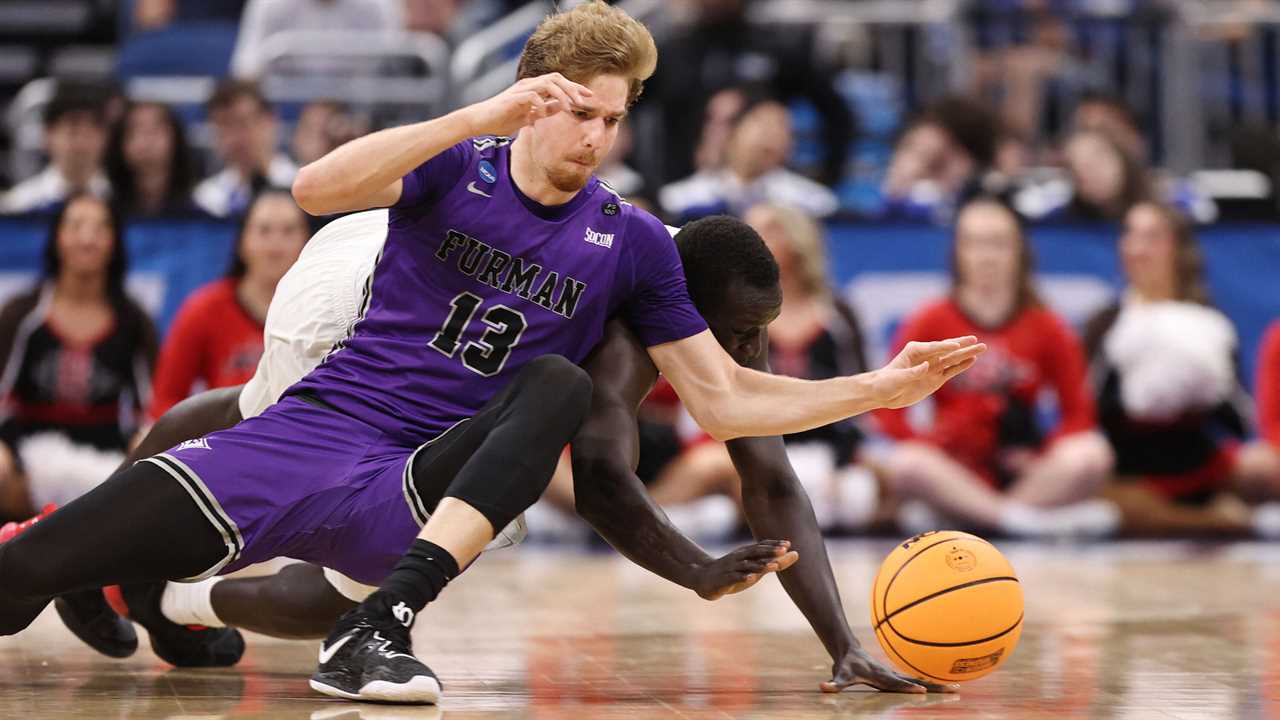 There is an implicit but unspoken deal between underdogs and the month of March: Most dreams come with rapid expiration dates. And two days after the biggest victory in school history, No. 13 seed Furman's sell-by date arrived with a 75-52 rout at the hands of fifth-seeded San Diego State in the men's N.C.A.A. tournament.
Where the Paladins were able to exploit Virginia's weaknesses in a 68-67 upset on Thursday, they were overwhelmed by the Aztecs in almost every aspect of Saturday's game. Known for its strong defense, San Diego State held Furman, which had averaged 81.7 points this season before the loss, to its lowest single-game total of 2022-23.
Furman shot just 32 percent from the field (while the Aztecs hit 50 percent of their shots) and 23.1 percent from 3-point range. For the season, Furman had shot 48 percent overall and 34 percent from 3-point territory.
Furman never led after the midpoint of the first half, and Jalen Slawson, the Southern Conference player of the year, was in foul trouble for much of the second half before fouling out with only 8 points.
"They kept us from driving, kept the ball out of the paint, kept a really strong floor and played really hard," Slawson said.
It was a complete and impressive performance by the Aztecs, who move on to their first round-of-16 appearance since 2014, where they will play the winner of Alabama and Maryland on Friday.
The Paladins, meanwhile, will take home indelible memories and stories they will tell friends and families for the rest of their lives.
"It's an unbelievable story," Furman Coach Bob Richey said, "and I couldn't be more proud of our team, at a time where I'm extremely disappointed that we didn't advance. But it's really hard to not pull the lens back a little bit and still see what that group was able to accomplish.
"For that, I'll be forever grateful." — Scott Miller
UConn races past No. 15-seeded Vermont.
STORRS, Conn. — If there was any doubt that the University of Connecticut was on stable footing heading into this year's women's N.C.A.A. tournament, its 95-52 defeat over the Vermont on Saturday took care of those concerns.
After a tumultuous and injury-filled regular season, the second-seeded Huskies lived up to their dominant reputation on their home court, outscoring and outrunning the No. 15-seeded Catamounts at nearly every turn. Aaliyah Edwards, the 6-foot-3 junior forward, led the Huskies with 28 points, 7 rebounds and 5 assists.
"We didn't have an answer for her," Vermont Coach Alisa Kresge said of Edwards. "She's just a worker, she works so hard, she never gives up. She's really talented, and that was quite a mismatch for us."
UConn forward Dorka Juhasz recorded a double-double with 15 points and 10 rebounds. Azzi Fudd made her first start since Dec. 4 after repeat knee injuries over the year (she kept a brace and knee sleeve on for good measure), while teammate Paige Bueckers, the junior forward who is out for the season with her own knee injury, cheered from the sidelines.
All 10 of UConn's players scored, in one of the highest-scoring games of the tournament so far. The Huskies scored 53 points in the first half and kept the Catamounts to 20 points, forcing Vermont to take quick shots that failed to land while clearing the paint on offensive drives.
Vermont was led by sophomore guard Catherine Gilwee, with 14 points and 5 assists. The Catamounts entered the tournament with a 25-6 record, riding a 17-game winning streak; they beat Albany in the America East championship a week ago to reach the N.C.A.A. tournament for the first time since 2010.
UConn will face the winner of the Baylor-Alabama game on Monday. — Remy Tumin
No. 12 seed Florida Gulf Coast takes down a No. 5.
VILLANOVA, Pa. — When Sha Carter of Florida Gulf Coast lined up against the taller Bella Murekatete of Washington State for the opening tip, it seemed like the first moment of a mismatch. Carter didn't attempt to corral the ball, and the Cougars raced to a lead.
Yet that impression flipped in a hurry, as the smaller Florida Gulf Coast team seized control midway through the first quarter and delivered a 74-63 win that showed why it was a popular pick to advance — even among oddsmakers — despite being a No. 12 seed against a No. 5.
Tishara Morehouse, the leading scorer this season for the Eagles entering the game, proved too quick for Washington State's defenders. She used spin moves and crossovers for scores, tallying 16 points and helping set up Carter to score at will. Carter led the game with 24 points.
The loss was a disappointing finish to a remarkable season for Washington State, which had won four straight games coming into the tournament to capture the championship in the difficult Pac-12 Conference, after finishing seventh in the regular season.
It was the first Pac-12 tournament title for the Cougars. But when the brackets came out, Florida Gulf Coast immediately stood out as a difficult matchup.
"They're always under-seeded," Washington State Coach Kamie Ethridge said Friday as her team prepared for the game.
Florida Gulf Coast has not lost since late January (an overtime defeat to Liberty), and extended its winning streak to 15 games with the victory.
The Eagles weren't alone as a winning No. 12 seed on Saturday: Toledo took down fifth-seeded Iowa State, 80-73, and will move on to face No. 4 seed Tennessee. Florida Gulf Coast awaits the winner of the Villanova-Cleveland State game. — Kris Rhim
It may be even harder now to beat a women's No. 1 seed.
Indiana's rout of Tennessee Tech put all four No. 1s in the N.C.A.A. women's tournament into the second round, and perhaps highlighted a reality that has shifted in recent years:
Though a 16-over-1 March Madness upset is exceedingly rare, it's probably even harder to pull off in the women's tournament right now than in the men's.
One night after the Fairleigh Dickinson men delivered the stunner of these festivities over No. 1 seed Purdue, the Indiana women romped past Tennessee Tech by 30 points, 77-47, joining fellow No. 1s South Carolina, Virginia Tech and Stanford in the second round. All four of those teams, playing with home-court advantage, won with ease to start their tournament run, with Virginia Tech winning by the tightest margin at 25 points over Chattanooga.
On Saturday, the Hoosiers pulled away in the second quarter, outscoring Tennessee Tech 21-9 in the period, and shot a breezy 58 percent for the game as their lead grew and grew. Sydney Parrish led with 19 points.
The men's tournament had gone without a No. 16 defeating a No. 1 before 2018, but it has now happened twice in the past five tournaments. A similar upset has only occurred once in the women's tournament since it expanded to 64 teams, when No. 16 seed Harvard beat top-seeded Stanford in 1998.
In that game, Harvard came in feeling like it deserved a higher seed, while Stanford lost two key players, Vanessa Nygaard and Kristin Folkl, to severe knee injuries in the week leading up to the game.
To beat a No. 1 women's team playing at home, or even a No. 2 — which has never lost to a No. 15 — it may take a similar series of circumstances. — Oskar Garcia
Matchups to Watch
Men's Tournament
No. 7 Missouri vs. No. 15 Princeton
6:10 p.m., TNT
Princeton on Thursday became the 11th No. 15 seed to knock off a No. 2-seeded team, and the first since all the way back in … 2022, when St. Peter's stunned Kentucky. The Tigers shot just 4 for 25 from 3-point range and attempted only five free throws, but they scored the final 9 points of the game to secure the upset of Arizona. In the round of 32, they'll face the Tigers of Missouri, who easily dispatched No. 10 Utah State. Missouri displayed a stifling defense and won the turnover margin.
No. 2 U.C.L.A. vs. No. 7 Northwestern
8:40 p.m., TNT
Northwestern on Thursday won the second tournament game in program history, 75-67, against Boise State. Boo Buie tallied 22 points, 5 rebounds and 5 assists for the Wildcats. U.C.L.A. beat U.N.C.-Asheville, 86-53, in the first round. The Bruins had injury concerns going into the game: Guard Jaylen Clark is out for the tournament with an Achilles' tendon injury and the big man Adem Bona is still nursing a shoulder injury. Bona was available for the game but didn't play.
Women's Tournament
No. 6 Colorado vs. No. 11 Middle Tennessee
7 p.m., ESPN News
Colorado (23-8) finished third in the Pac-12 and is headed to its second straight N.C.A.A. tournament after missing out since 2013. Middle Tennessee ended the season on a 10-game winning streak, including the three games of the Conference USA tournament. M.T.S.U. was ranked No. 25 in the final Associated Press poll but received only a No. 11 seed in the tournament, so they were a popular pick to pull an upset: 32 percent of public brackets on ESPN chose the Lady Raiders, and The Athletic gave them a 45.4 percent chance to win the matchup.
No. 4 Texas vs. No. 13 East Carolina
10 p.m., ESPN
Texas started the season ranked No. 3 in the Associated Press poll, but the Longhorns lost three of their first five games while their star point guard, Rori Harmon, was out with a foot injury. Texas rebounded to tie with Oklahoma for the Big 12 regular-season title. East Carolina is playing in just its third N.C.A.A. tournament, the most recent in 2007, when it was also seeded at No. 13. The Pirates earned their spot by winning the American Athletic Conference tournament.