Javonte Harding doesn't walk to the starting line of an outdoor track meet without wearing his gold chain and iridescent shades with sparkling white frames. He doesn't try to be overly haughty, but he has the confidence and talent to back up his flamboyant fit as soon as the starting gun goes off.
"The way I think, look good, feel good, run good," Harding told Andscape. "So, I try to put everything together every meet. … Every time I step on the track, I'm like, 'You know what you can do, right?' Now it's just a matter of showing people who don't believe you can do it. The confidence is always there."
Harding will be participating in the 2022 USA Track and Field Outdoor Championships Thursday-Sunday in Eugene, Oregon, where runners compete for an opportunity to represent Team USA at the world championships in July. Harding will run the men's 100-meter and 200-meter races.
"Even though this might be the biggest meet that I've run in so far, I honestly treat it like any other meet," Harding said. "Execute whatever we're working on. Every meet could potentially be my last meet, so I treat it the same."
Related Story


For the Howard women's track and field program, the race is just beginning
Read now
Harding spent the first two years of his collegiate track career running at North Carolina A&T State University under coach Duane Ross, a 2004 Olympic hurdler and the 2021 co-national coach of the year.
Ross was recently named the next head coach at the University of Tennessee, and Harding plans to follow Ross entering his junior season in the fall.
"That wasn't really a hard decision for me," said Harding. "I'm happy to be able to go to Tennessee. To go to a Power 5 school in the SEC is pretty big for me, mainly because I'll be the first person in my family to go to one of those type of schools for athletics. I'm going to have to take some time and get used to the environment and stuff. HBCUs and PWI, there's gonna be a little bit of a difference."
After very few looks from colleges out of high school, the opportunity to attend an SEC institution isn't lost on Harding, and Ross expects him to continue to compete at a high level.
"A lot of people missed out on that kid," said Ross, who helped the historically Black N.C. A&T receive national recognition for its track program during his 10 years as coach. "He didn't have the fastest times in the country. But, when you watched him race, man, you could just tell it was nothing but heart. Somebody who has that heart like that wants to be good, you gotta roll the dice with a kid."
For Harding, a Prince George County, Virginia, native, the characteristics he embodies are artistically placed as tattoos along his right arm. His shoulder is adorned with a lion, there's a black panther on his inner forearm and an elephant on his outer forearm. Each represents a different attribute he hopes to exemplify in his life.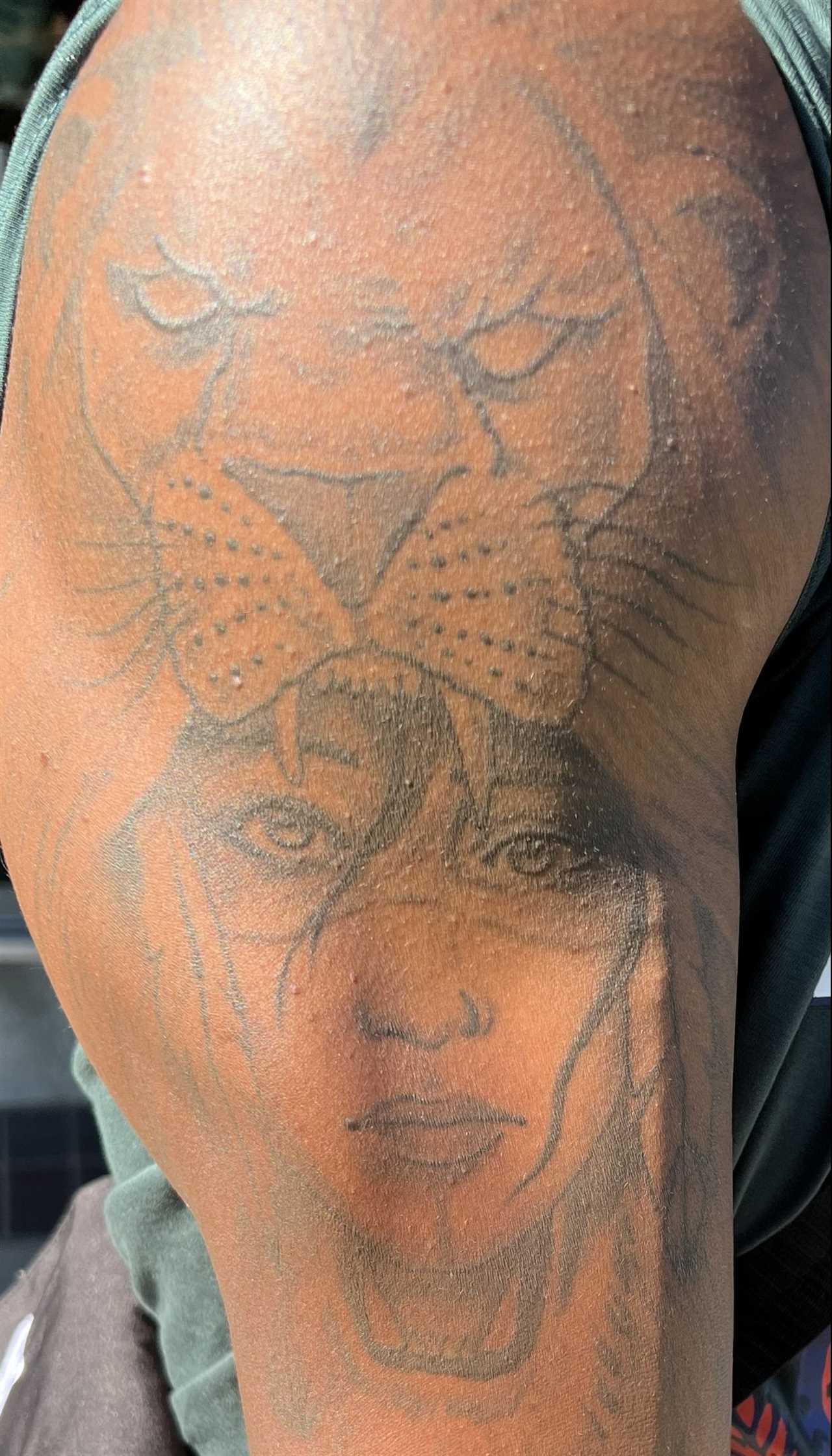 Javonte Harding has a tattoo of a lion on his right shoulder.
Javonte Harding
"The lion meaning royalty to me because that's how I like to see myself and nothing less," Harding said. "Then with the black panther on my forearm for power. They're literally one of the strongest animals in the animal kingdom. With the elephant on the back side of my forearm meaning wisdom. …
"I always like to keep a mindset to not allow anybody to diminish me. If I imagine myself as royalty and nothing less, I will not allow anybody to tell me that I'm not. If I believe that I am, that's all that matters. If I believe I have power, then I believe there's nothing that I can't do. With wisdom, there's always a chance to learn something new. Everything that's on my body reminds me to be myself every day."
Harding's confidence wasn't built overnight. In elementary school, he was diagnosed with bilateral hearing loss, a condition that affects the hearing in both ears to various degrees. His mother, Roxanne Harding, has the same condition, and she was still able to compete in track and field for Virginia State University in 1988. His father, Wayne, also attended Virginia State and was a two-sport athlete, running track in high school and playing football for the Trojans.
Javonte spent most of his childhood working through and becoming comfortable with his hearing loss.
"Once you start to make your own name, make your own identity and find who you are, he really stopped caring what people outside of him really said about it," said Dajuan Harding, Harding's older brother. "Like, he would just either take his hearing aids out, turn them off or just not care because he knows what he can do and who he is."
Harding doesn't use hearing aids in college and doesn't believe he's at a disadvantage.
"I never felt like there was really much of a problem for me … it's a part of who I am," Harding said. "So my hearing impairment is just another aspect of my life that pushes me to do everything."
For Harding, hearing anything, including a starter gun, requires him to focus intently on the sound. Ross noticed there was a slight delay in Harding coming out of the blocks during his freshman season, which hindered him in shorter races such as the 60 and 100 meters. A year later, it's no longer a problem.
"One of the things his first year we thought might have been an issue was just his reaction time. We didn't give any power to [his hearing loss]. We know it's there, but we had a conversation, 'If you're gonna be one of the best in the world, man, you got to be one of the best in the world period,' " Ross said. "We [had] to find a way to circumvent this, and that's what we did. We went to work. He works on his reaction a lot so that he can feel that vibration of the gun and hear it. … He doesn't let that hold him back. He doesn't make excuses for anything."
In his freshman year alone, Harding took home the Mid-Eastern Athletic Conference outdoor track and field most outstanding athlete honor after winning in the 100 meters, 200 meters and as a member of both the 4×100 and 4×400 relay teams. He finished his freshman year narrowly missing podium placement in the 100-meter and 200-meter races at NCAA nationals, but helped the men's 4×100 relay place fourth.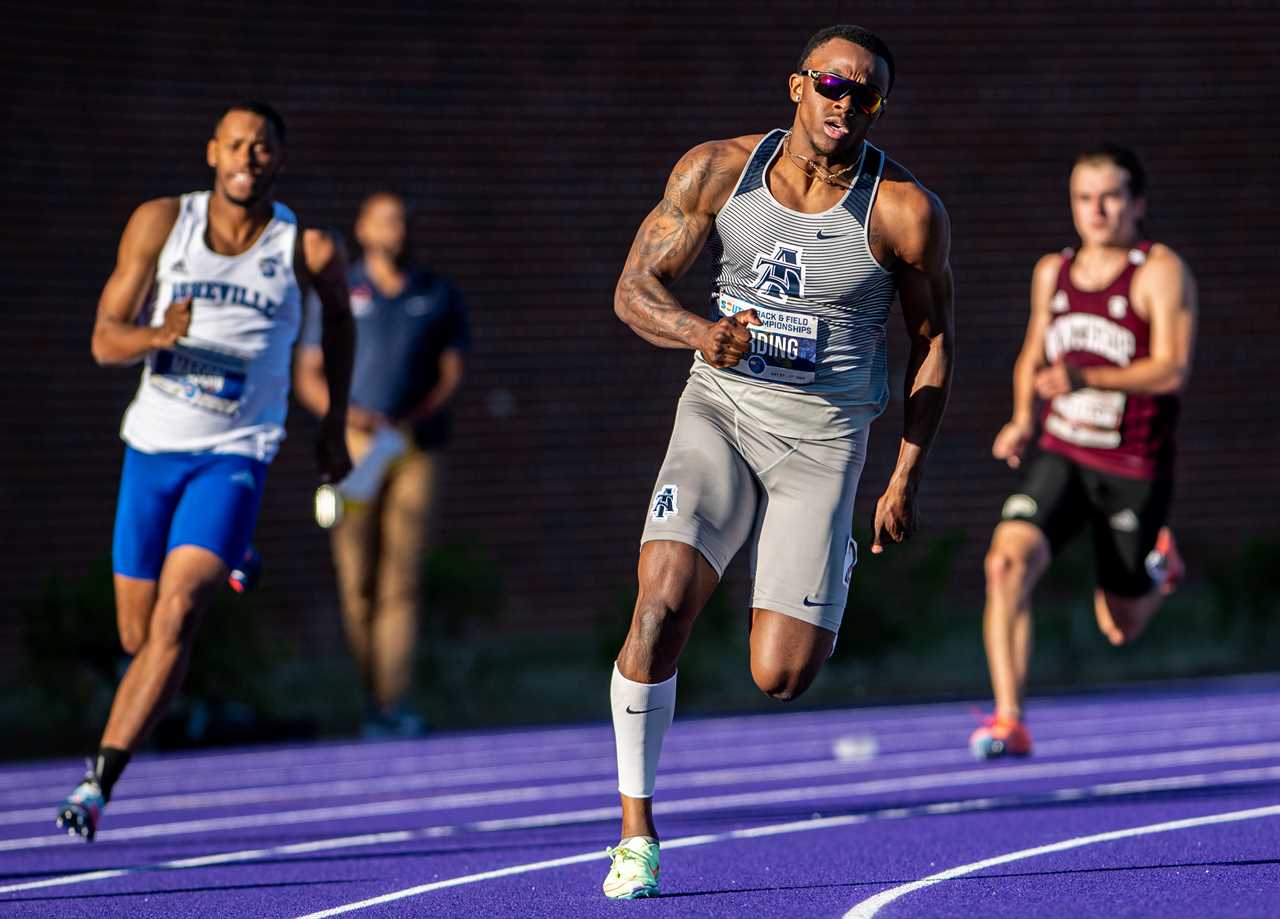 Javonte Harding adopted the nickname "Pac Man" on the track for always being on his opponents' heels during races.

Erin E. Mizelle/N.C. A&T Athletics

His prowess on the track earned him a new nickname, which Harding has adopted on all of his social media handles.

"The name 'Pac Man' just started coming about [for Harding]. If most people watch him race, and they know the game of Pac-Man, he's right behind you," his brother said. "He's coming down your back easily. So it's a name that stuck with him and it just worked out in his favor."

When Harding became an NCAA champion, winning the men's 200 meters at the NCAA indoor national meet with a time of 20.46 in May, it proved the days that Dajuan Harding, a member of the Aggies' track and field team from 2014 to 2018, begged Ross to give his little brother a shot were worth it. Ross said it was rare that someone's younger sibling actually was as good as described, but Dajuan knew Ross could have an impact on Harding.

"I knew the type of coach that Duane Ross was," Dajuan Harding said. "I tell everybody, I just wanted Duane Ross to touch Javonte because I knew after being there for four years what Javonte could do. Now everybody has seen who Javonte is. I was just giving them the inside scoop being that I'm his older brother."

Harding finished third overall in the men's 100-meter dash at NCAA nationals with a personal-best time of 10.08 this season, and he anchored the men's 4×100-meter relay, which finished eighth overall.

A year ago, Harding qualified for the Olympic trials in the 200 meters but didn't get the opportunity to race due to a hamstring injury. Now he's healthier and hoping to accomplish his dream of running for Team USA.

Leading up to the USA championship, Harding ran what would've been a personal-best 19.98 in the 200 meters at NCAA nationals, but he was disqualified for a lane violation coming off the curve. It was Harding's first disqualification in an individual event.

"Even though it was a DQ, it was the first time I ever ran 19 [seconds]. The fact that I know I can run it, I believe highly in myself that I can run it again," Harding said at the NCAA outdoor championships. "Although it didn't count when I really needed it at nationals, it helped a lot. Especially with the fact that I'm running against better world-class athletes and I know I have a higher chance because I have people to push me to be my best on the track."

That moment is still fresh in his mind, but he's more than prepared for the next opportunity.

"He's become a superior competitor," Ross said. "He's always been a talented athlete. He trains hard. … When this guy gets on the line, I'm expecting him to win or to be in the mix to win."

-----------------------

By: Mia Berry
Title: Javonte Harding displays 'nothing but heart' when competing on the track Despite the obstacles he's faced since an early age, the track star's confidence has never wavered
Sourced From: andscape.com/features/javonte-harding-displays-nothing-but-heart-when-competing-on-the-track/
Published Date: Thu, 23 Jun 2022 18:36:00 +0000


Read More
Did you miss our previous article...
https://ballerawards.news/sports/orlando-magic-select-paolo-banchero-with-no-1-pick-in-nba-draft