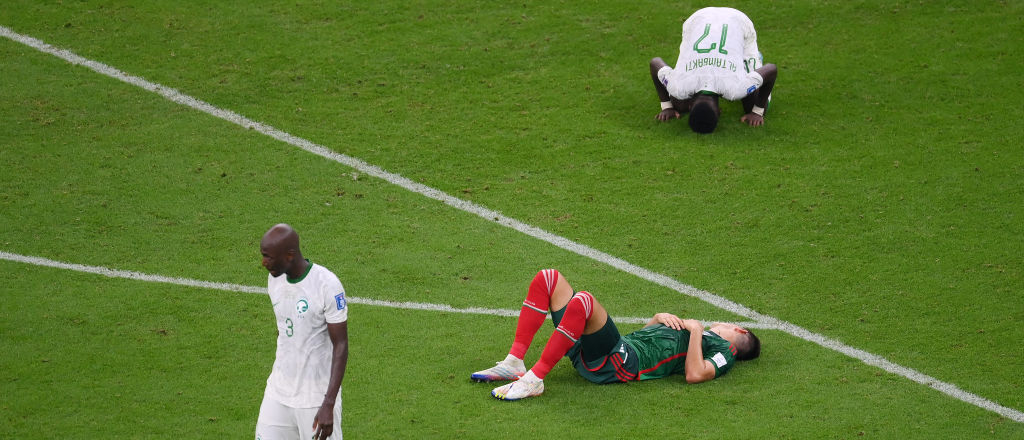 Getty Image
The final day of group play in Group C at the 2022 World Cup presented a whole hell of a lot of intrigue. The long and the short of it: Every single team — Argentina, Mexico, Poland, and Saudi Arabia — had a chance to move on to the knockout stage. Argentina and Poland took the pitch against one another, as did Mexico and Saudi Arabia.
Things were pretty chill after the first half. Both games were tied at 0 — thanks in large part to Polish goalkeeper Wojciech Szczęsny standing on his head — meaning that Argentina and Poland were slated to move on. And then, the second halves of both games started, and things got absolutely outrageous right away.
Almost immediately out of the break, Alexis Mac Allister put Argentina ahead with a first-time effort on a ball by Nahuel Molina.
THERE IT IS



ARGENTINA TAKES THE LEAD pic.twitter.com/8uDkGnC5Tt

— FOX Soccer (@FOXSoccer) November 30, 2022
Two minutes into the second half of the other game, a corner for Mexico got put away by Henry Martin.
THERE'S ONE FOR MEXICO

pic.twitter.com/gWHEW5XdLb

— FOX Soccer (@FOXSoccer) November 30, 2022
It didn't take long for Mexico to get a second. Luis Chávez got a free kick from about 15 yards out of the box and could not have placed it more perfectly, going top bins to give El Tri a 2-0 lead.
TWO FOR MEXICO





As it stands, Mexico only needs one more goal to advance!!! pic.twitter.com/fRnhYJgOXC

— FOX Soccer (@FOXSoccer) November 30, 2022
As things stood, both Mexico and Poland were on four points, but the Mexicans trailed on goal differential by one goal. They weren't able to get a second, because an effort was ruled out for offside…
Mexico was this close to getting a third

pic.twitter.com/jkacVaIvwY

— FOX Soccer (@FOXSoccer) November 30, 2022
…but Argentina was able to help them out considerably, as Julián Álvarez controlled a ball into his feet in the box and beat Szczęsny.
TWO FOR ARGENTINA



Things are getting WILD in Group C

pic.twitter.com/987rv6nP8K

— FOX Soccer (@FOXSoccer) November 30, 2022
Because of this, every single tiebreaker — goal differential, goals scored, points in head-to-head matches, goal differential in head-to-head matches, and goals scored in head-to-head matches — were exactly the same. Literally, every single thing that could be determined based on goals. Mexico and Argentina spent the rest of their games getting chance after chance, but their efforts would just miss every single time.
MEXICO WAS THIS CLOSE pic.twitter.com/UbR4XGJDW1

— FOX Soccer (@FOXSoccer) November 30, 2022
Argentina was THIS CLOSE to a third goal

GROUP C IS WILD pic.twitter.com/plTbhABkiQ

— FOX Soccer (@FOXSoccer) November 30, 2022
If this held, everything was going to come down to something called fair play points, which basically is a way to reward teams that pick up fewer cards in games.
Fshgyt!#!@&&!

LIVE FAIR PLAY POINTS
Poland: -4
Mexico: -7

– yellow card: minus 1 point
– indirect red card: minus 3 points
– direct red card: minus 4 points
– yellow card and direct red card: minus 5 points https://t.co/tRnKts0HlL

— Dale Johnson (@DaleJohnsonESPN) November 30, 2022
It, ultimately, did not matter. Five minutes into seven minutes of stoppage time, Saudi Arabia's Salem Al-Dawsari found himself one-on-one with Mexican goalkeeper Guillermo Ochoa thanks to a well-worked 1-2 with Hattan Bahbri. While Ochoa has come up gigantic for Mexico time and time again in the World Cup over the years, this ended up being too heavy a burden to bear.
SAUDI ARABIA SCORES

pic.twitter.com/XiNbSdbC4f

— FOX Soccer (@FOXSoccer) November 30, 2022
As a result, Poland made it through on goal differential. They finished in second place in the group, which means they'll take on France in the round of 16. Argentina, meanwhile, won the group and will play Australia in their first knockout game. As for Mexico, this marks the first time they failed to get out of their group at the World Cup since 1978.
-----------------------
By: Bill DiFilippo
Title: A Stoppage Time Goal Destroyed Mexico's Hopes Of Advancing Out Of The Group At The 2022 World Cup
Sourced From: uproxx.com/sports/mexico-out-world-cup-stoppage-time-goal-highlights-videos/
Published Date: Wed, 30 Nov 2022 21:17:39 +0000

Read More