Morgan Wallen speaks out.
Fans of the country superstar were upset last night after he walked away empty handed at the 57th Annual CMA Awards despite being nominated for three awards, including Entertainer of the Year alongside Luke Combs, Chris Stapleton, Carrie Underwood and the winner of the category, Lainey Wilson.
Of course Morgan has had one of the biggest tours in country music the past couple years, and recently announced his 2024 One Night At A Time stadium tour (where he'll be playing two nights on each stop). He's also had one of the best-selling albums of the year with One Thing At a Time, and has had three #1 singles this year (to go along with his three from 2022).
Morgan was banned from the CMA Awards back in 2021 after a video was released showing the country star using a racial slur, though he was still eligible in certain categories that weren't solely for the artist. But last year, he was welcomed back and nominated for both Entertainer of the Year and Male Vocalist of the Year.
This year, Morgan was again nominated for both Male Vocalist of the Year and Entertainer of the Year, and also Album of the Year for his most recent project, One Thing At a Time. And he also performed twice, once during a surprise appearance by Eric Church for their duet "Man Made a Bar," and again with Post Malone and HARDY for a tribute to Joe Diffie with "Pickup Man" and "John Deere Green," the first two singles from the just-announced Hixtape Vol. 3: Difftape.
But once again, Morgan Wallen walked away from the CMA Awards empty handed after Lainey Wilson took home the night's top prize for Entertainer of the Year, while Chris Stapleton won Male Vocalist of the Year and Lainey Wilson also won Album of the Year for Bell Bottom Country.
His fans weren't happy, expressing their outrage that Morgan was "snubbed" from all three awards:
But Morgan isn't letting it bother him that he's not taking home any trophies – or at least if he is, he's not saying anything publicly.
In a post to his Instagram story, Morgan had a simple message on being left out of the winner's circle:
"Walked in tonight a winner, didn't leave no different."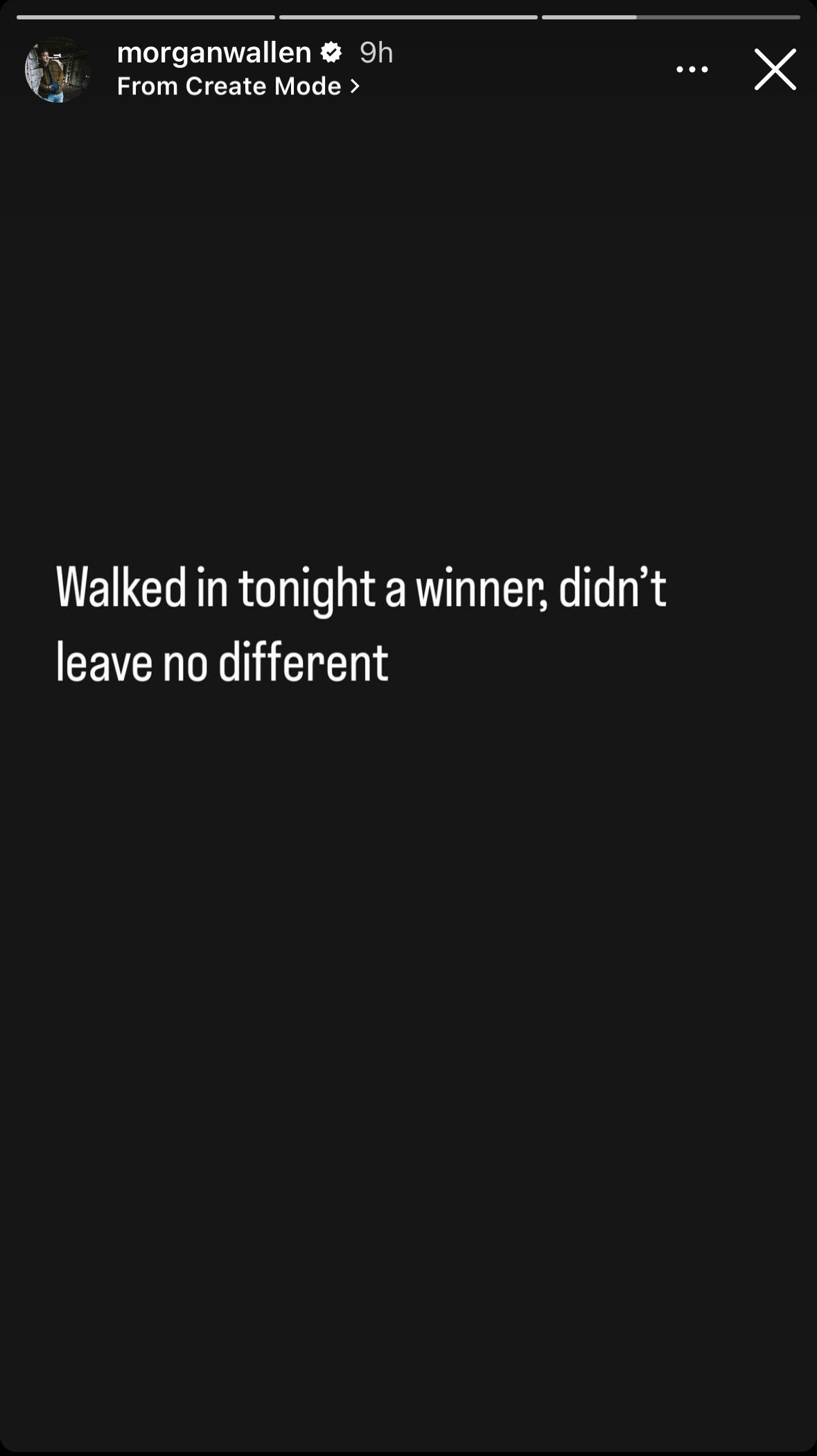 It's hard to argue with that one. He may not have a trophy to show for it, but he has one of the biggest country albums of all time, a string of #1 hits that most country artists will never have, and is selling out stadiums.

Hard to feel too bad for Morgan, even if you thought he deserved the awards.

The post Morgan Wallen Responds After Walking Away Empty Handed From CMA Awards first appeared on Whiskey Riff.

-----------------------------------

By: Aaron Ryan
Title: Morgan Wallen Responds After Walking Away Empty Handed From CMA Awards
Sourced From: www.whiskeyriff.com/2023/11/09/morgan-wallen-responds-after-walking-away-empty-handed-from-cma-awards/
Published Date: Thu, 09 Nov 2023 15:04:13 +0000


Read More