Måneskin performed at the 2023 MTV Video Music Awards on Tuesday, September 12, one year after bassist Victoria De Angelis' wardrobe malfunction made headlines.
The Italian rock band — made up of De Angelis, 23, singer Damiano David, drummer Ethan Torchio and guitarist Thomas Raggi — debuted their new single, "Honey (Are U Coming?)," at the awards show. During the performance, David, 24, held a portable video camera and captured footage of the audience from his perspective as he sang.
In addition to performing, Måneskin was also nominated for Best Rock Video for their song "The Loneliest." Before taking the stage, Chloe and Halle Bailey announced that the group took home the moonman for Best Rock music video.
The band's performance was a much tamer production compared to their on stage mishap last year. MTV censored Måneskin's August 2022 VMAs performance of "Supermodel" after De Angelis' black one-shoulder top fell off, exposing her chest. (In addition to airing on MTV, the live show was simulcast on broadcast network CBS and kids network Nickelodeon.)
Though she had a silver pasty over one nipple, her other was bare to viewers at home and the audience. Cameras quickly panned away as she and the band kept playing. One week later, the network released a slightly less filtered version of the performance, in which the cameras stayed on De Angelis but her chest was blurred.
Prior to the 2022 ceremony, De Angelis walked the red carpet with her bandmates, showing off her nipple pasty in the one-shoulder top that left one half of her chest on display.
Following the ordeal, the group addressed the controversy. "It was definitely an 'oh, well' moment. Nothing new for me," De Angelis told USA Today of the wardrobe malfunction in October 2022. "I didn't think this big drama would come out of it."
Meanwhile, David joked, "We're so used to seeing her [breasts], we didn't even know it was happening."
While the band initially made light of the situation, they later pointed out that MTV seemingly had no issue with the backless chaps and thong David performed in but chose to censor De Angelis' exposed chest. "It shows that there are still many, many prejudices toward rock bands and toward women," the lead vocalist told NME the following month. "There is a lot to work on and we try to do our part."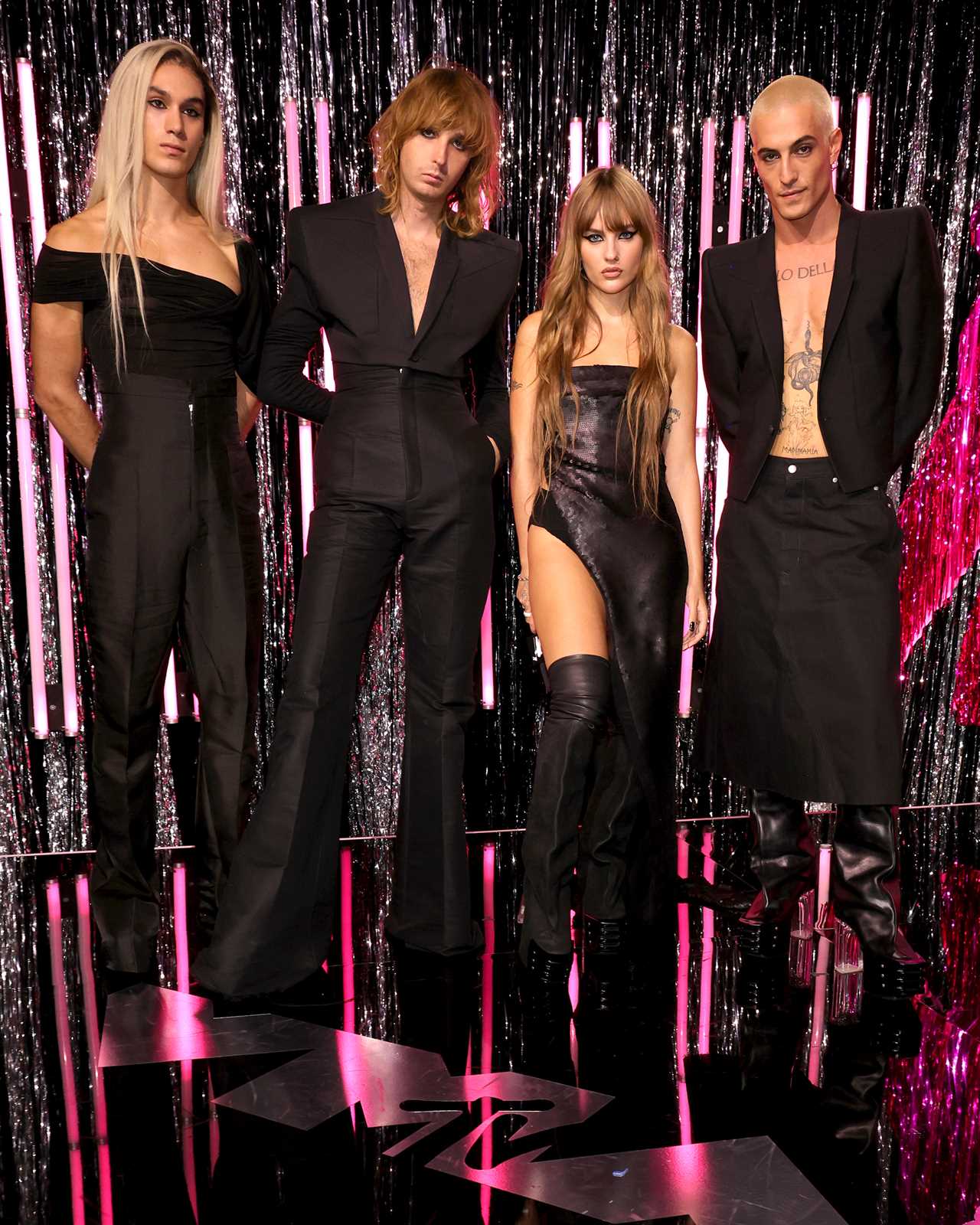 De Angelis, for her part, hoped the moment spurred progress. "It's sad, but it's good that people then talk about it and think about it," she noted. "It's stupid that there has to be this control and censorship over people's bodies."
Ahead of the 2023 ceremony, De Angelis called out the VMAs for seemingly having double standards. "We're too hot for U.S. television," she told The Guardian in January. "It's so stupid because they want to appear so open-minded and then they get scared about a pair of nipples. There is this difference between men's and women's bodies and how you're perceived and sexualized all the time. Everyone has nipples."
David added: "It's very clear the different standards people have because I was literally butt-naked."
While the 2022 VMAs drama is in their rearview, Måneskin is still used to dealing with negativity. "We've always been very dividing," David acknowledged. "There are a bunch of people that love us and are very proud of what we're doing, and then there's a whole other part made of conservatives and traditional rock 'n' roll fans and fascists that hate us with everything they've got."
------------------------------------
By: Erin Crabtree
Title: Maneskin Returns to VMAs Stage After 2022 Wardrobe Malfunction
Sourced From: www.usmagazine.com/entertainment/news/maneskin-returns-to-vmas-stage-after-2022-wardrobe-malfunction/
Published Date: Wed, 13 Sep 2023 03:47:33 +0000

Read More