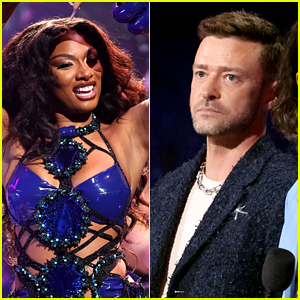 A source is speaking out to reveal what Megan Thee Stallion and Justin Timberlake said to each other backstage at the 2023 MTV Video Music Awards.
A video went viral online after what appeared to be a tense moment backstage on Tuesday night (September 12) at the Prudential Center in Newark, N.J.
It looked like Justin approached Megan and said something to her, which led her to yell at him.
Well, the insider has explained that there was "zero fight" and it was actually a pretty friendly interaction that just looked completely different from the angle seen online.
Keep reading to find out more…
The insider told Variety, "He said, 'It's so nice to meet you,' and she said 'No, no this don't count, this don't count. We gotta meet proper.' It was very cute."
We're glad it wasn't actually a fight!
------------------------------------
By: Just Jared
Title: Insider Reveals What Megan Thee Stallion Said to Justin Timberlake at VMAs: There Was 'Zero Fight'
Sourced From: www.justjared.com/2023/09/12/insider-reveals-what-megan-thee-stallion-said-to-justin-timberlake-at-vmas-there-was-zero-fight/
Published Date: Wed, 13 Sep 2023 01:30:45 +0000

Read More