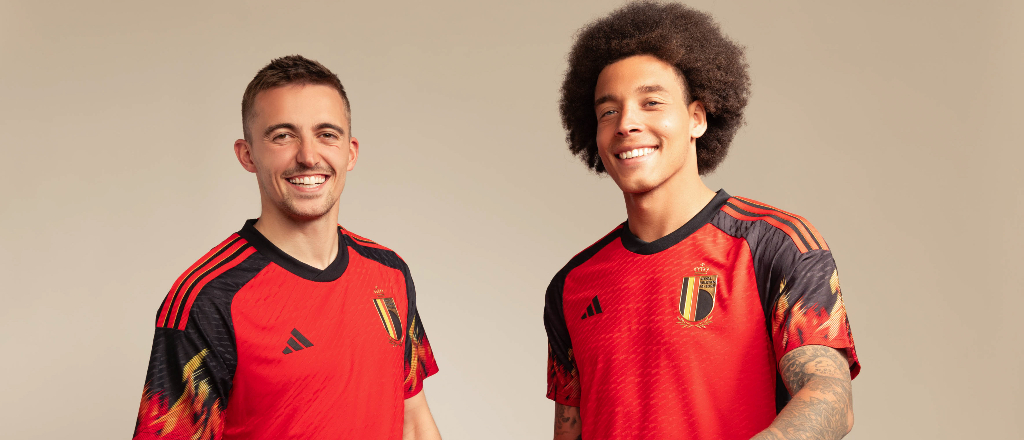 BelRedDevils/Twitter
Belgium are headed into the 2022 World Cup with some ultra-high expectations. Led by arguably the two best players in the game at their respective positions — midfielder Kevin de Bruyne and goalkeeper Thibaut Courtois — the Belgians hold the distinction of being the No. 2 team in the world in the FIFA rankings and should be able to win a group that includes Canada, Croatia, and Morocco.
As we learned on Monday, Belgium will try to do this with one of the funnier jerseys we have seen in the lead-up to this winter's World Cup. Adidas — which, to be clear, has knocked most of their kits ahead of Qatar out of the park — revealed that Belgium will wear a red kit with black sleeves that morph into FIRE.
Meet our new @adidasfootball #WorldCup shirts!



#DEVILTIME #FLAMETIME pic.twitter.com/OOvBLNJAGt

— Belgian Red Devils (@BelRedDevils) September 19, 2022


#DEVILTIME pic.twitter.com/veQRdWEBIQ

— Belgian Red Devils (@BelRedDevils) September 19, 2022
Also: FIRE SOCKS.
Everyone is so focused on the flames on Belgium's new shirt that they're missing the flames on Belgium's new socks. https://t.co/vjF61mdLVE pic.twitter.com/FzybSYlGxA

— Brooks Peck (@BrooksDT) September 19, 2022
The real reason for this is very simple: Belgium are known as the Red Devils, everyone knows the devil lives in hell, and everyone knows hell has fire everywhere, according to the 2000 Adam Sandler film Little Nicky. The far sillier reason for this is that Adidas and Guy Fieri collaborated here, a theory that several folks on Twitter believe to be true.
Welcome to Flavortown FC, also known as the Belgium World Cup kit.

"Belgium will be wearing a shirt that even Guy Fieri finds aesthetically offensive."



or

?



@BelRedDevilshttps://t.co/vMNWWgGljL pic.twitter.com/dII2MqDIPd

— The Athletic Soccer (@TheAthleticSCCR) September 19, 2022
Very glad to see Flavortown made the World Cup this year pic.twitter.com/eWNtw3Pt9z

— Robby Kalland (@RKalland) September 19, 2022
pic.twitter.com/fozB86uGmM

— Tom Bogert (@tombogert) September 19, 2022
Can't believe they've let guy fieri design the new Belgium kit pic.twitter.com/A0IXNvzXAB

— Duncan (@ketaminedrams) August 29, 2022
Google tells me that Fieri went to a Belgian restaurant in Cincinnati earlier this year, so perhaps there is something to this.
-----------------------
By: Bill DiFilippo
Title: Belgium Is Surely Guy Fieri's World Cup Team Based On Their Jerseys With Flames On The Sleeves
Sourced From: uproxx.com/sports/belgium-world-cup-jerseys-flames-guy-fieri-reactions/
Published Date: Mon, 19 Sep 2022 19:11:15 +0000

Read More